Patios, Pathways, and Edging for Beautiful Low-Maintenance Landscaping
Front and backyard pavers are one of the most popular landscape features in the east valley. Pavers provide a stable surface so you can set out furniture, entertain, and walk, run, or play in different areas of the yard.
Hardscaping with pavers also creates gathering spaces. For instance, installing patio pavers characterizes a seating area, often beneath a shade structure such as an Alumawood Pergola. For entertaining or cooking outside, a paver patio hosts a fire pit, BBQ island, or outdoor kitchen.
If you'd prefer a desert garden oasis, paver edging creates a gorgeous border around artificial grass, walkways, planters, and garden beds. Paver pathways and stepping stones are inviting and functional. Give you and your guests a meandering tour of the gardens. Enjoy up close views while having convenient access to care for your desert flora.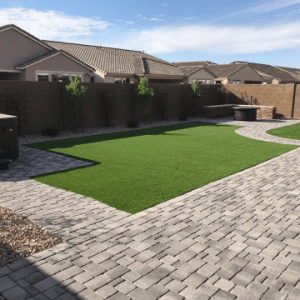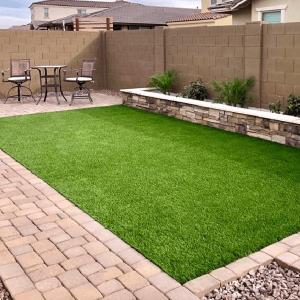 Best Choices in Paver Material
Because pavers are high traffic zones, we recommend concrete or travertine pavers. You can also install a mix of the two to meet the needs of different areas of the yard.
Concrete Pavers
If you are visualizing a dreary, whitish-gray concrete, think again. Concrete pavers come in various shapes, sizes, and colors. They can mimic the look of other materials like stone, brick, or cobblestone. Concrete pavers are far more durable than poured or stamped concrete, which is another reason they remain a popular choice in the valley.
Travertine Pavers
Travertine is part of the limestone family and 100% natural stone. It is more durable than man-made materials and can last centuries without cracking. Because it's natural, no two pavers are the same. Travertine stays cool to the touch, even in the valley's hottest weather. Thus, it's favored for BBQ island and outdoor kitchen countertops and patios.
Travertine pavers are excellent for water absorption, making them ideal as a paver patio around swimming pools. It comes in different colors, shapes, and sizes. And keeps its color longer than other paver materials.
Paver Design Options
You might prefer your paver color and style match your house exterior. This design option provides a seamless flow between the home and yard. It is an excellent choice if you aren't confident about installing contrasting colors.
Pavers can also make a bold statement as an integral part of your landscape design. When providing landscaping services, The Yard Stylist recommends Belgard for an array of style choices and a lifetime transferable limited warranty. We also suggest Phoenix Paver as local providers that offer a paver types and custom colors.
We'll help you choose pavers in the styles and colors for function and beauty that fit your overall vision.
Benefits of Hardscape Landscaping
We can use pavers and stone in unique ways to achieve a low-maintenance hardscape. Include a seating wall near an outdoor fireplace or fire pit. Build decorative steps into your home or to a raised patio. Install borders around plants, shrubs, and trees. Add stepping stones across artificial grass leading to a putting green or pergola. Create a stunning water feature with LED landscape lighting.
Hardscaping conserves water and reduces your water bill.
Pavers limit the weed growth you deal with when you have gravel.
A hardscape expands usable living and entertaining space in your yard.
An appealing landscape design increases your property value.
Browse our hardscapes gallery for inspiration using pavers and other hardscaping options. Begin the design process using our Build-a-Package feature for savings in landscaping costs.
Our team is landscaping near you! The Yard Stylist offers a free onsite consultation to homeowners in Chandler, Gilbert, Mesa, Queen Creek, and San Tan Valley.