Here's Why an Outdoor Kitchen is a Landscaping Essential
The decision to expand your living space into the backyard with an outdoor kitchen is far more practical than you might realize. The most obvious benefit is the pleasure of entertaining family and friends outside.
But, since food preparation and eating is an everyday occurrence, this open-air cookery will get a lot of use. Especially in our beautiful Arizona East Valley climate.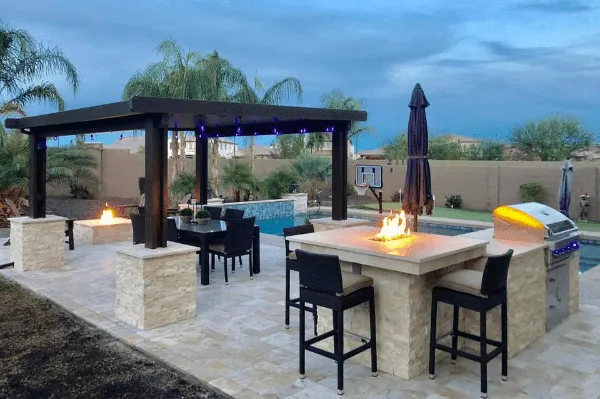 10 Ingredients for a Fully Equipped Outdoor Kitchen:
BBQ Grill
Counter and Storage Space
Electricity and Lighting
Water and Sink
Mini Fridge and Freezer
Bar Stool Island or a Seating Wall
Shade Structure (like our Alumawood Pergola)
Concrete, Porcelain, or Travertine Pavers
Music and perhaps a TV
If a full-size outdoor kitchen isn't in your budget, consider a BBQ Island as the smart alternative. A BBQ Island provides you with a drop-in for a grill, counter and storage space, and pavers for patio seating. You can integrate additional features as your budget allows.
The Many Unexpected Benefits of an Outdoor Kitchen
Thinking of an outdoor kitchen as only a luxury item? Think again. This is one landscape design renovation that really pays off in terms of return on investment and a higher quality lifestyle.
Arizonans love the outdoors. And grilling is part of our culture. But, if you limit the backyard space to only a grill and some patio furniture, you'll be running between the kitchen inside and the fun outside. It's inconvenient. And you'll find you won't use your BBQ grill nearly as often. Building a BBQ Island or fully equipped backyard kitchen makes all the value of outdoor living achievable.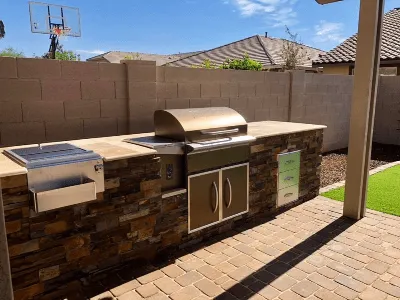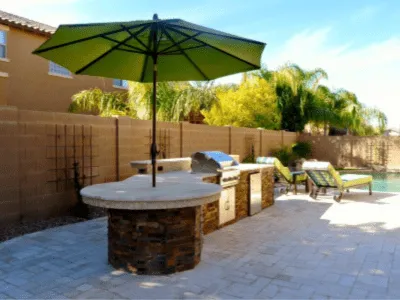 Additional benefits of an outdoor kitchen include wonderful things you wouldn't realize unless you owned one yourself.
Food as Therapy
Study after study reveals that sharing a meal with a group, or just one other person, is good for us. Life gets busy, no matter how old we are. Setting aside time to talk, reflect on the day, and reconnect encourages better eating habits and soul-stirring contentment. Get out of the house without leaving your home and give your emotional health a boost.
Eat Better while Saving Money
When you are the owner of an outdoor kitchen, you'll notice a tendency to avoid expensive restaurants and unhealthy fast-food except for special occasions. Grilling is quick, easy, and fun. All members of the family can participate. Clean-up is a breeze.
Expand Your Culinary Skills (whether or not you like to cook)
There are literally thousands of delicious online recipes and cookbooks for grilling main courses, side dishes, and even desserts. You can take your newfound talents on the road if you camp, RV, or go to grill-outs at the homes of family and friends.
Give the A/C a Break
As you know, traditional cooking can raise the temperature indoors substantially. Keep the heat outdoors and lower your air conditioning expense. In the East Valley, you can use your outdoor kitchen all year long.
Customize Your Backyard for Function and Entertainment
Options are plentiful when building an outdoor kitchen or BBQ island. For instance, you can choose custom stone for the base and sides that endure the elements, compliment the space, and look beautiful for years.
You might prefer an uncovered grilling island that gives you full view of the surrounding landscape and interaction with others. A covered cooking area, on the other hand, provides shade in the heat of the day and protection from wind or rain.
The layout or shape is another factor to consider. We can help you decide between straight, galley, U-shape, L-shape, and G-shape.
Request a Free Consultation and Competitive Bid
The Yard Stylist offers landscape design services for new construction homeowners and those who want a full yard remodel. Our team is landscaping near you! We serve Chandler, Gilbert, Mesa, Queen Creek, and San Tan Valley.
Low-interest Financing Available
Licensed, Bonded, Insured
Better Business Bureau A+ Rating
Workmanship Warranty + Manufacturer Warranty
Consistent Communication Every Step of the Design and Build Process